Serving Nebraska, Idaho, Wyoming, American Samoa, and Federated States of Micronesia
57th Annual Poison Prevention Week March 17 – 23, 2019
Medication Safety
Some form of medication is found in nearly every home. Medication may be in the form of pills, liquids, ointments, suppositories, inhalers, eye, ear and nose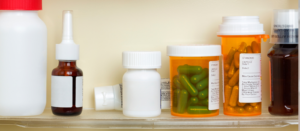 drops.  Just because a medication is over-the-counter does not necessarily make it safer.  In fact, some medication that is purchased over-the-counter can be dangerous if taken in amounts not advised on the label. Most medication exposures occur in children less than 5 years of age, but accidental or intentional exposures may occur in people of all ages.  Please follow these tips and general recommendations for medication safety:
Read all labels carefully and take or give medicine only as directed.
Always use medicines with child-resistant caps, but remember child-resistant does not mean completely child proof, and may only slow children down.
Keep medicines in a locked box such as a tool or tackle box. Store it up and away and out of sight.
Never leave medicine bottles or the medicine itself sitting on the counter or nightstands. Children are curious and will try to grab pills and/or bottles.
Store medicines in the original container and never mix medicine in the same container.
Medicine should not be taken in front of children, because they like to imitate adults.
Never take or give medicine in the dark.
Keep purses, backpacks and diaper bags out of the reach of children as they could contain medicine.
Store all medicines away from food or beverages.
The Nebraska Regional Poison Center Registered Nurses and Pharmacists are available to take your call 24/7/365.